Christmas is the best time of the year for people of different walks of life, including kids, teens, and adults. Christmas is the holiday of great joy and cheers, and a great chance for parents to make the wishes of their kids come true. Throw a Christmas party for your kids and make it more joyous by inviting kids from next doors with Christmas banners. Use them as direction signs to point out the exact location where the party is taking place. We use to dress in red like Santa himself with a huge sack of candies and gifts at our back and distribute them to little ones. Christmas means a lot of gifts distributed and owned and greetings to be shared among friends, families and neighbours. So you can use the images of candies, gifts, balloons, reindeers, stars, elves, leprechaun, Santa Claus, on your Christmas party banners to create a perfect setting for kids to enjoy and visual impact that is hard to miss even for adults.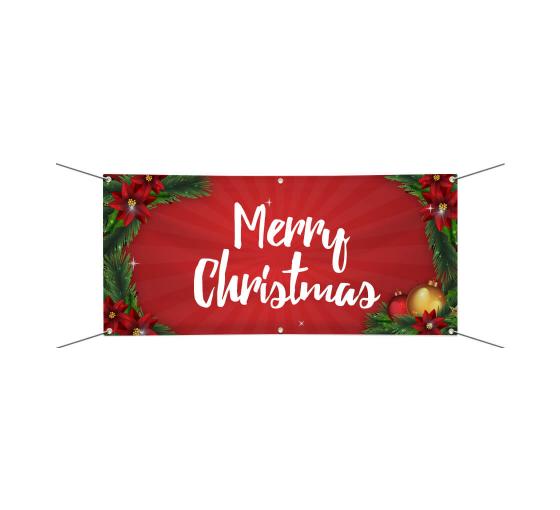 Give your Christmas banners a spiritual colour
The red colour of Christmas symbolizes Holy Berries and the blood of Jesus during his crucifixion on the cross. Christmas church banner with red colour graphics is an inspiring reminder of how Jesus sacrificed his life for the betterment of society. Use the images of Christmas tree, which represents the tree of knowledge from the Garden of Eden. Personalized banners online with colourful graphics of small, pyramid-shaped fir tree decorated with small balls, lights, miniaturized gift-wraps, tinsels, candles and nutcracker will make an excellent background for your happy holiday banner, outdoor Christmas banners, Christmas sales banner and Christmas party banners. Use of red colour on your banners symbolize the birth of Jesus as an enlightened being or holy prophet to lead humanity from darkness to light whereas green colour used on your Christmas banner denotes youthfulness, hope and natural beauty of life. Try to create a visual for your banner as colourful and eye-catching as you are decorating a real Christmas tree. In addition to the graphics, you can create an illusion of white sprinkling snow falling from the skies by using soft and sober white colours. This will give your Christmas banners a touch of winter's beauty.
Make the colours glow in light
Use dye-sublimation printing to provide stability to your colours and graphics
Choose colours that match the theme of your party
Use Christmas colours to add a spiritual touch to your décor
Test your creativity with Christmas colours
When it comes to adding colours to your Christmas banners, we cannot overlook the majestic and royal radiance of golden colour, which represents the eternity of life tantamount to Jesus. Even if you surf for Christmas banners online, search results shown in the first page dazzles with these 3 Christmas themed colours – red, green and golden. Oh, for business holiday promotions – a beautiful Christmas banner design will help customers find the discount offers and festival bonanza. So, if you are running a small retail shop around the corner and wish to be noticed by potential customers passing by to get the most out of the festival, you got to make the site look appealing to the interested customers. You can fantastically decorate the site with Christmas banners dripping in these 3 colours for a greater visual impact. So whatever purpose you have for Christmas banners, you can place an order online anytime you want by using popular websites offering banner making services at competitive prices.